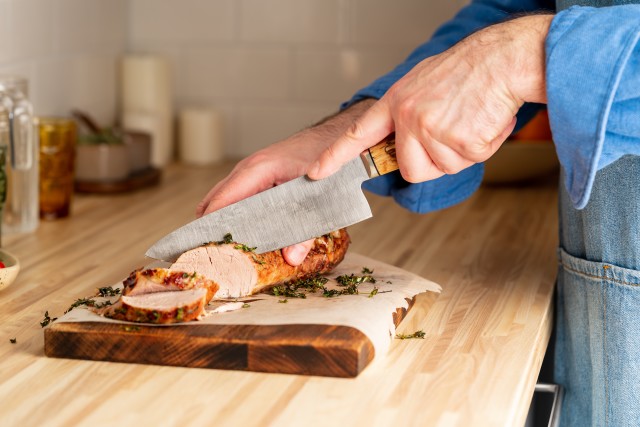 If you're like most people, you love a good roast dinner. There's nothing quite like carving into a juicy piece of meat and enjoying the tender texture and flavour. But if you want to make the perfect roast dinner, then you need the perfect carving knife. In this blog post, we will discuss the different types of carving knives available and help you choose the one that is right for your next roast dinner!
What to look for when choosing a carving knife
When it comes to carving knives, there are a few things you'll want to keep in mind. First, the blade should be sharp and durable. A carving knife will see a lot of use, so it's important to choose one that can stand up to repeated wear and tear, so for this reason, a high-quality carbon steel blade is worth investing in. Second, the blade should be fairly thin. This will allow you to make more precise cuts and avoid damage to the food. Third, the handle should be comfortable to hold. You'll be using the carving knife for extended periods of time, so it's important to find one that won't cause fatigue or discomfort. Finally, the carving knife should preferably come with a sheath or case. This will protect the blade and ensure that it stays sharp for years to come.
Are there different types of carving knives?
Carving knives come in a variety of shapes and sizes, each best used for a specific purpose. The most common type of carving knife is the straight carving knife, which is ideal for carving meat and poultry. For carving hard vegetables and fruits, a serrated carving knife is a better choice. A carving fork is also useful for holding meat steady while you carve it and ensures fingers are kept safely away from the blade. Whichever type of carving knife you choose, be sure to keep it sharpened for optimal performance.
Why investing in a quality carving knife makes sense
Any experienced cook will tell you that a good carving knife is an essential tool in the kitchen. Not only does it make it easier to carve meats and other proteins, but it also allows you to create beautifully presented meals. As a result, investing in a quality carving knife makes sense for anyone who enjoys cooking. A good carving knife can last a lifetime, so look for one that's made from high-quality steel, is durable and able to withstand repeated sharpening. The handle should be comfortable to hold and provide a good grip, even when wet. Finally, the blade should be designed for easy maneuvering and precise cutting. We suggest keeping the above features in mind but also why not ask one of our knife specialists for advice? There really are so many options and we'd be happy to help you find a carving knife that'll last for years and make serving family roasts easier and more enjoyable