---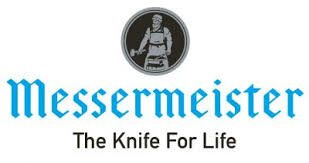 The story of Messermeister, "messer" meaning knife and "meister" meaning master, begins with a man and his passion for premium German cutlery. Bernd Dressler was born in Germany and in his teens immigrated with his family to Australia. In 1967 he sought after bigger dreams in America and began his career as a salesperson in cutlery for a large German knife company.
In 1981, having gained the necessary sales experience, Bernd decided to start his own venture in cutlery with the help of his wife, Debbie Dressler. Bernd sought to reconnect with his countrymen by collaborating with a 3rd generation knife making family in Solingen, Germany. His passion for premium cutlery led him to design and manufacture vintage, handcrafted, forged German cutlery. While studying the manufacturing craft from the German masters, he also learned from chefs that a need existed for more functional, better performing knives. Bernd's innovations are the first bolsterless heel, the first truly cambered chef's knife and the sharpest polished edge angle.
By 1995 Bernd's brother, Bruen, introduced Messermeister to the Australian market and from there the brand began to expand internationally.
---
This category is empty! Please try another category or use our search function to find what you are looking for. If you require further assistance please contact us.