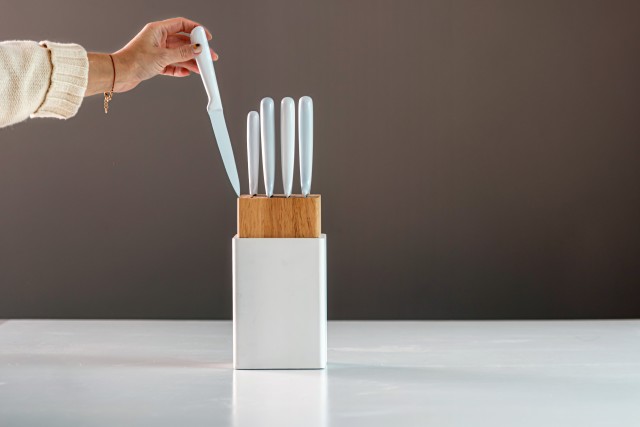 If you're like most people, you use your kitchen knives every day. Whether you're slicing vegetables or chopping meat, your knives are an essential part of your cooking arsenal. So it's important to make sure that you store them properly when they're not in use. If you just throw them in a drawer, they can easily get damaged or dulled. In this blog post, we will discuss the best way to store your kitchen knives, so they stay sharp and safe!
Why it's important to store your knives properly
Your kitchen knives are some of the most important tools in your home. They're also one of the most dangerous if not used properly. That's why it's so important to store them safely when they're not in use. If you just throw them in a drawer, they can easily become dull or damaged. And if you don't have a good knife storage solution, you run the risk of injuring yourself when you reach for a knife.
The best way to store your knives
There are a few different ways to store your knives, but the best way is to use a knife block. A knife block is a great way to keep your knives organized and safe. It also allows you to grab any knife you need without searching through a drawer full of other utensils. If you don't have a lot of counter space, you can also find wall-mounted or pull-out versions that will save even more space.
Another option is to use a magnetic strip. This is a great option if you have limited counter space, as it can be mounted on the wall or inside a cabinet door. The downside to this option is that it's not as safe as a knife block, as your knives can easily become dislodged and fall.
No matter which option you choose, make sure to clean your knives regularly. This will help them stay sharp and prevent rusting. Additional tips for keeping your knives in good condition include: using a sharpening stone to keep your knives sharp, hand washing your knives with soap and water after each use, drying your knives immediately after washing to prevent rusting and storing them in a cool, dry place.
By following these simple tips, you can ensure that your kitchen knives are always safe and sharp! Do you have any other tips for storing or caring for kitchen knives? At Knifeshop Australia, we know knives and are team members are always on hand to answer any of your questions. Call us today on 07 3352 4550 if you've got any knife-related questions or queries