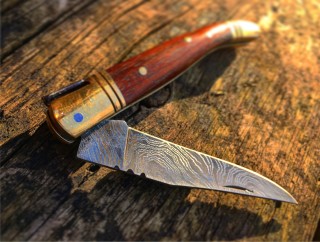 Knives make a great gift for the outdoor enthusiast in your life. They can be used for all sorts of activities, from camping and hiking to fishing and hunting. In this blog post, we will take a look at some knife gift-giving ideas that would be sure to please any outdoorsman or woman. So no matter the occasion, be sure to check out our range of knives as there's bound to be one that would suit!
Different types of recreational knives and their purposes
There are many different types of recreational knives, each with its own unique purpose. For example, the folding knife is a popular choice for recreational camping and hiking. Its compact size and easy-to-use design make it a convenient tool for various tasks, including opening cans and cutting rope. Pocket knives are another popular option for recreational activities. They are typically small and lightweight, making them easy to carry in a pocket or backpack. Pocket knives are ideal for performing small tasks, such as whittling wood or trimming fingernails. Multi-tools are another type of knife that can be useful for recreation. They are similar to pocket knives, but they typically include a variety of additional features, such as pliers and screwdrivers. Multi-tools can be handy for performing detailed work or making emergency repairs. Whatever type of recreational knife you choose to give, be sure to select one that's durable and easy for the recipient to use.
How to choose the right knife for the person you're buying for
Every knife is different. Some are big, some are small. Some have serrated blades, and some have straight blades. With so many options on the market, it can be tough to choose the right knife for the person you're buying for. If you're unsure where to start, here are a few things to keep in mind.
First, consider what the knife will be used for. Is the recipient an avid outdoors person who needs a knife for hunting and fishing? Or is the knife more for recreational use, like hiking and camping? The type of knife needed will vary depending on its intended purpose.
Next, take a look at the blade. Serrated blades are great for cutting through tough materials like rope or wood, but they can be difficult to sharpen. Straight blades, on the other hand, are easy to sharpen but may not be as effective at cutting through thick materials. decide what type of blade is best based on how the knife will be used.
Finally, think about the handle. Do you want a knife with a comfortable grip? One that won't slip out of your hand when wet? There are many different types of handles on knives these days, so take your time to find one that will feel good in hand and be easy to use.
Some of our favourite knives that would make perfect gifts
Now that we've gone over how to choose the right knife, let's take a look at two of our favourites.
This Swedish made knife has a comfortable grip and a thin steel blade for filleting fish.
Boker Plus Gnome Olive Fixed Blade Knife
This ultra-compact knife is durable and features a comfortable grip and a strong blade.
Whatever type of knife you choose to give, one of our knife experts can offer advice to make sure it's a gift that will be cherished and used often! Pop in and see us in-store or enquire online because we're always happy to help with your knife needs.