Essentials to Make Your Family Camping Trip A Happy One

Whether planning your first camping trip or haven't been in a while, this starter checklist fast tracks a terrific outdoors time for all:
Shelter
First things first. Get a comfortable night's sleep every night. Whether you're camping in a campervan, caravan, tent, or under the stars, protect yourself from the elements. An extra shelter (for eating together or rainy weather or just getting out of the sun in the day) is a great option too.
You can get great portable shower and toilet tents nowadays, which makes roughing it a bit easier for the whole family, and sometimes actually means that they'll go camping at all.
Bedding
The days are awful when the nights are awful. Take plenty of bedding, especially in winter or in rainy weather. If you're tent camping, you'll each need at least a sleeping bag, a pillow, and a mattress or camp bed each to get off the ground, for the aforementioned night's sleep.
Site Gear
Don't forget a few decent light sources for when the sun goes down. If they can power up from the sun in the day, even better. A good-sized lantern is ideal for playing cards, but several smaller versions is good for everyone to have their own space. A head-mounted light is invaluable for cooking. Looks silly, but definitely isn't.
No Batteries Needed – Just the Sun! Lasts up to 18 hours
Lightweight, waterproof, safe and durable!
LUCI Outdoor 2.0 Inflatable Solar Light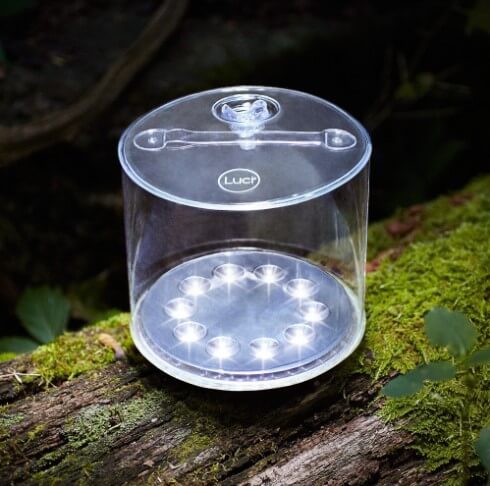 Perfect for Outdoors, Hiking, Camping
CLICK HERE TO FIND OUT MORE AND PLACE YOUR ORDER
Chairs
Always chairs. Easy to forget, and great around a campfire. A table if you're fancy, for board games and meals, but you can get away without one if space is limited. But definitely chairs.
Firewood
A ready fire is one of the best things about camping, if the site and the weather allows it. Take firewood at least for the first day, to get you started, if not the whole trip. Camping is a terrific time for all of you to channel your inner woodsman. A small axe with a sheath is the perfect travel companion here.
Gransfors 420 Small Forest Axe
Lightweight Swedish-made Axe with Leather Sheath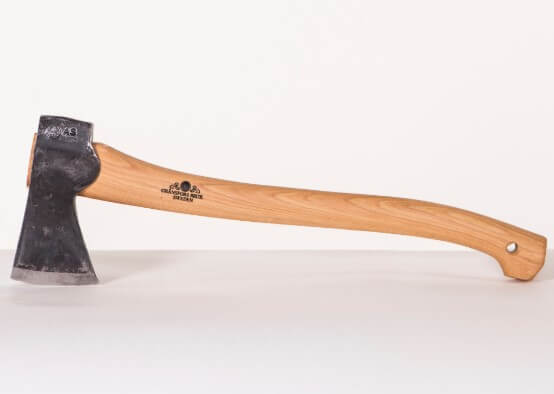 Chopping Power in Your Rucksack
CLICK HERE TO FIND OUT MORE AND PLACE YOUR ORDER
Fire Starter
Bang for your buck, an all-weather fire starter (and one for the car) is invaluable. But whether it's matches, a lighter or one of the many fire steels available, take something. Don't rely on the old two-sticks method unless you're a professional.
Good for Thousands of Strikes! All Weather
Lightweight Swedish-made Axe with Leather Sheath

Hultafors Fire Steel
CLICK HERE TO FIND OUT MORE AND PLACE YOUR ORDER
Food & Drinks
Frozen bolognaise and cowboy stew. Maybe it's the fresh air, but you seem to eat and drink more when you're camping. Take plenty of meals and day snacks to last the trip, and prepare a few beforehand. And don't forget condiments - they make a camp-cooked meal special. Plenty of drinking water too.
Handy tip:
How to make a remote camp stay really miserable: forget coffee, tea, chocolate and your favourite red wine.
Cooking Equipment
Depending on your meals and campsite resources, you might have a few options or only one. Gas bottle and cooker, charcoal or wood barbecue, or just a rig over the fire itself. A stick for marshmallows and sausages.
Pots and Pans
Nice to have at least one pot for boiling water and simmering stews, and one pan for breakfast eggs (and frying that fish you caught..). More is better, but only if you've got plenty of kids' dishwashing hands on deck.
Cutlery and Cooking Utensils
Cutting board, lightweight plates, mugs and cutlery. Aluminium foil for potatoes, damper and other fire-cooked goodies. A decent all-purpose bushcraft knife that suits many tasks? Definitely. Plenty of them about, too.
One Superb Outdoor Utility Knife
From fine wood carving to meat cutting – dependable simplicity
OKC 8698 Bushcraft Utility Fixed Blade with Sheath
American Walnut hardwood handle, 5160 Carbon Steel
CLICK HERE TO FIND OUT MORE AND PLACE YOUR ORDER
Clean Up Gear
Respect the environment, and others after you. Take bags for rubbish, wet and dirty gear, and make light work of leaving the site as you found it. Washing up bowl and detergent for the last one down the mountain.
First-Aid Kit
Be prepared for accidents, and take a small kit if you're camping far from the car (or civilisation). Or just Band Aids. And Panadol. And a zip-loc bag for incidentals.
All That Other Personal Stuff
At a bare minimum: toothbrush and paste, sunscreen, deodorant. A book or a hobby. A book about whittling. Whittling tools.
Swimmers, towel, warm clothes, extra clothes. Extra shoes. Lollies.
Keep going with your own list… And get out there and go camping!!